Fans of gaming on a laptop risk resorting to overclocking the video card, CPU, RAM by increasing the operating frequencies and voltage. The program allows you to control the fan speed, monitor the status of hardware components. On portable computers there are difficulties in increasing the frequencies of components – cooling, limited space in the case.
Пароль на архивы: 2255
Let's see how to use MSI Afterburner on laptops and whether it's worth chasing a dozen extra megahertz.
Is it worth overclocking graphics cards on laptops?
MSI Afterburner is a program to enhance the performance of discrete graphics cards, built-in does not support. It allows you to lower the voltages and frequency characteristics of the video card to reduce power consumption and thus heat dissipation. If you want to squeeze more out of your laptop, or on the contrary, to cool it down when working in not resource-intensive applications, this utility will help.
Developers of most laptops strongly discourage overclocking. In the case of a portable computer there is much less free space than in a system unit, so air masses do not circulate so freely, power components are located more compactly, closer to each other.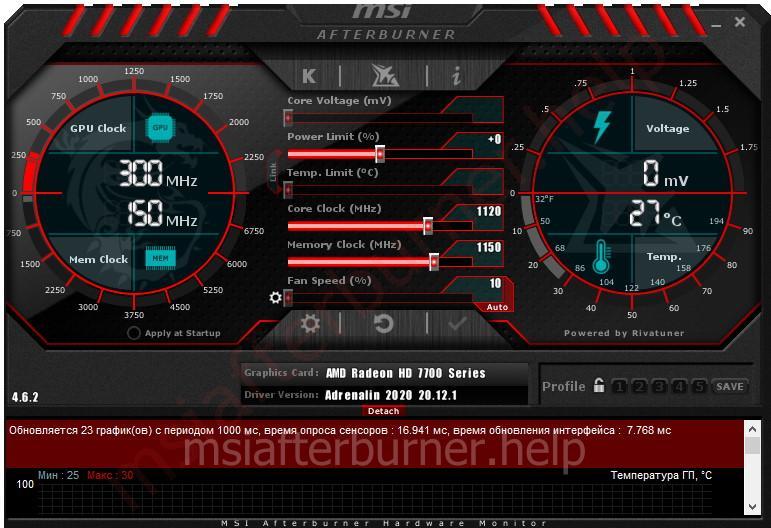 CPU overheating and Trottling is the most common cause of laptop malfunctions. Any service center will confirm this. After increasing frequencies, the performance gains will not please you, and the probability of thermal damage grows exponentially.
If you own a gamer laptop that is warming and trotting, follow these steps if possible:
disassemble the case, clean the contents and fans of dust, cobwebs, and other debris;
If possible, replace the thermal paste on the processor and video card;
Take care of a stand with a fan to improve heat exchange between the device and the outside environment;
update the graphics driver to the latest version.
You should not overclock devices under warranty. At the service center, it is not difficult to determine from indirect signs that the device has been overclocked. Service under warranty will be denied.
After preparation, be sure to search forums for experience in overclocking a similar laptop model.

Download MSI Afterburner on your laptop for free
Пароль на архивы: 2255
Download Afterburner program for changing iron parameters and Kombuster for testing overclocking in English below:
[wpfilebase tag="file" id="17″ /]
[wpfilebase tag="file" id="3″ /]
How to use MSI Afterburner on your laptop
The essence of laptop overclocking via Afterburner is not different from increasing the performance of computer video cards. Be sure to switch to a discrete (external) graphics gas pedal via BIOS/UEFI or programmatically via the Manager, activate the high performance mode in the power settings.
Press Win + R, run the command "control.exe powercfg.cpl".

The required window is accessed via Control Panel – Power Supply.

Switch the mode to "High Performance".

Move the switch to the maximum speed position.
Next, open an article about overclocking video cards on your computer, the process differs only in the details, these we will consider.
If the desired sliders are grayed out (not active), follow the link that describes how to unlock them.
While for PCs it is recommended to increase the memory frequency by 10-20 MHz at a time, for laptops it is 5, maximum 10 MHz. For graphics memory, 15-20 MHz. Raising the specs above 20% is not worth it, the graphics core can turn into a fiery and then charred crystal.
After each stage of overclocking, run a benchmark, for example, MSI Kombuster or "bagel", or a resource-intensive game for two hours to check stability, quality of heat dissipation. To do this, use the monitoring tools detailed in the article.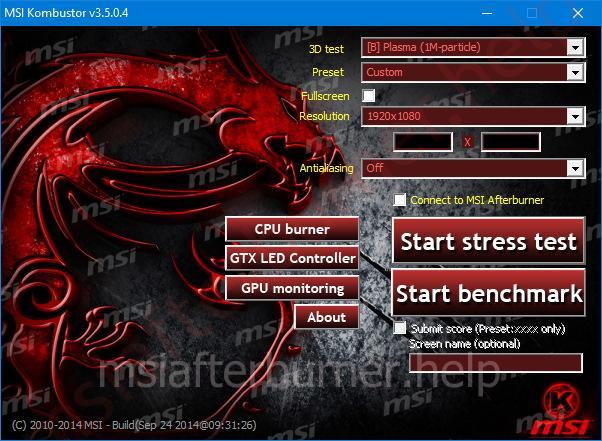 With sensible cooling and overclocking without fanaticism you will get up to 5% fps increase in games and increased noise from fans. For gaming you can create one profile (with overclocking), and for work in office applications you can create a second profile with reduced frequencies.
Questions & Answers
Разогнал 100 500 видеокарт и знаю толк в оптимальных настройках параметров. Можете задавать свои вопросы, помогу.
Разбираемся с вашими проблемами.
Вопросы эксперту
Что делать, если MSI Afterburner не видит видеокарту ноутбука?
Утилита не всегда обнаруживает графические ускорители, интегрированные в материнскую плату и процессор (Intel) MSI Afterburner также не увидит.

Поддерживает только устройства от Nvidia и AMD. Также помогает обновление драйверов видеокарты (скачивайте с сайта производителя ноутбука или графической карты), установка свежей редакции MSI Afterburner.

Подробнее о решении проблем читайте по ссылке.
Есть ли смысл в разгоне видеокарт бюджетных ноутбуков?
Describe your experience with overclocking your laptop's graphics gas pedal. No fear of overheating when you increase graphics core and memory frequencies?
Пароль на архивы: 2255